Finding the right teachers, staff, and volunteers for your youth program can seem intimidating. You want the right people in the right roles to help your program and kids shine—this is a significant part of what will make your program a success and keep families engaged and coming back each year.
It's rare to have a "perfect" staff member or candidate roll onto the job. Investing in your staff's professional development helps them build the skills your program needs to succeed and keeps them interested in growing within your program or organization.
With that in mind, here are some key considerations when recruiting staff and ensuring their ongoing professional development:
How can you attract the very best staff for your program?
Hiring the best teachers and staff members for your youth program starts with knowing how to attract and appeal to potential candidates. After all, you need them to want to apply to work for your youth program, right?
Some ideas for attracting exceptional staff for your program include:
Offering professional development: Staff members appreciate the opportunity to learn on the job. Adding professional development opportunities to promotional materials is a great way to attract top talent and encourage them to apply for your program.
Sharing positive staff testimonials: Word of mouth is a powerful motivator. Sharing testimonials from current and previous staff members will help candidates feel confident in your youth program and inspired to get involved.
Highlighting staff survey data: Collecting and highlighting staff survey data often provides valuable insights and tells a powerful story about staff members' impact. This goes a long way in inspiring candidates to be part of the impact you're making.

Promoting your perks:

Sharing the perks that keep veteran staff members coming back is a great way to attract new talent. For example, low student-to-staff ratios, clear and consistent communication, an easy-to-implement curriculum, a focus on program culture and staff engagement, and the ability to time-share roles (or split work) for greater flexibility are all perks that can help you attract, recruit, and retain the very best talent for your youth program. (Learn more about recruiting staff in our latest webinar!)
What makes someone a great fit for your youth program?
When evaluating potential candidates for your program, there are certain attributes and characteristics to keep in mind:
Passion for Your Mission
Ensure anyone you hire understands your mission and values and shares them enthusiastically. They should be excited about what you are excited about—whether that's helping kids improve reading skills, discover a love for the arts, be part of a team, and so on.
Subject-Matter Expertise
Your staff should have the right skill set to assist kids with the program's subject matter. In a sports program, for example, you need coaches that understand the game, are able to lead kids in the appropriate drills, and help refine their skills. Similarly, high-impact tutors assisting middle schoolers with math should be well-versed in mathematical concepts and how they should be taught according to the school's curriculum.
Great Rapport with Kids
When you're evaluating potential candidates for your youth program, having a great rapport with kids is essential. Teachers, staff, and volunteers—especially those working directly with the kids in your program—should know how to get kids motivated, manage behavior, and make learning fun.
A Growth Mindset
Staff should be open to learning new things and expanding and refining their skill sets. Your program has an important role to play because it can foster lasting professional development through numerous opportunities to learn and grow.
Where can you look for the best teachers and volunteers?
You can recruit staff in various ways, including in-person events, word of mouth, online posts, and print advertisements. Word of mouth is an especially powerful recruitment tactic. Look for members of the community who will help spread the word because they have a vested interest in your program and the kids you serve.
A great way to find staff is to partner with a local college or university. Students in certain higher education programs may be required to accrue volunteer or practicum hours and may be eager to serve in your program. You can also partner with your local school district and recruit teachers, or even students, who may be looking for a summer or afterschool program to fill gaps in their calendars.
How can you help your staff further develop their skills?
Staffing success doesn't stop with hiring—you need to empower your staff to expand and refine their skills throughout their time with your program.
Offering professional development opportunities helps teachers and volunteers perform at a higher level, benefiting the students served and offering a more rewarding experience for teachers.
Professional development can also improve teacher and staff retention rates. Research shows that teachers who remain in their profession are more likely to say they have been mentored and participated in beneficial, subject-specific development activities.
Not sure what type of professional development to offer? Talk to your current staff to find out what they want to see and what would make the biggest difference in their success. This way, you can tailor your professional development support to the teachers and staff in your program.
Empowering Professional Development with Arly
A youth program software solution like Arly can make professional development easy by offering the curated tools and resources needed to train staff through group and self-paced modules on an easy-to-access and easy-to-use platform. In particular, Arly Professional Learning & Resource Library is a great resource for accessing timely, innovative courses to help your staff grow.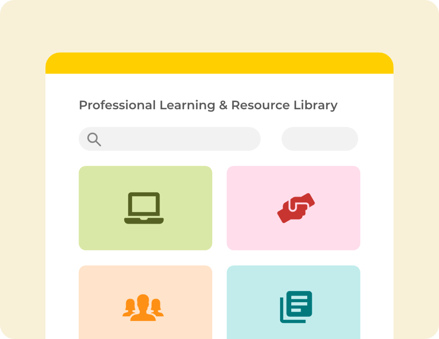 Ready to kickstart professional development and educate your leaders? Learn how Arly empowers professional development and request a demo to see our platform in action!